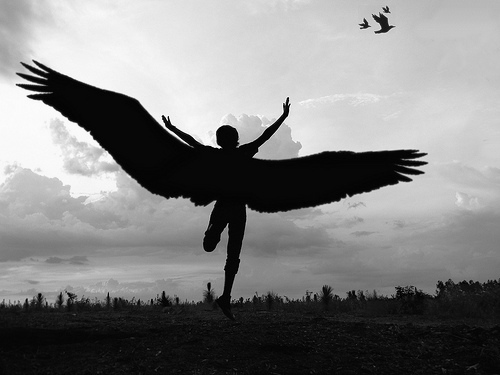 فَرَدْتُ إليكِ أجنحةَ الأساطير ِ
وطرتُ إليكِ
جُبتُ حَنَادِسَ الظُلماتِ آفاقَ الديايجيرِ
خرقتُ إليكَ أسجافاً
أعَدْتُ حكاية المسحور
أرضَ الصندلِ الغافي
وعرسَ الجن والحورِ
أعدتُ. أعدتُ..
لو تسمعْ
ستدركُ لوعتي يوما
وتلمحُ دمعتي يوما.
فتجمعُ من نِثَارِ البرقِ تجمعُني
شَجَى هَذِي المزاميرِ..
فيا أملاً تبدَّدَ في زوايا الخوف
أُدركهُ فيُبكيني
وأَترُكُهُ فيُبكيني.

وأرسِمُهُ.. فأذهَلُ عن بحار الخوف
تَرفَعُني وتَخْفِضُني..
وتُبعدني وتُدنيني..
وطيفك كان يغزوني ويأسرني ويطلقني
ويدفعني ويبقيني
ولحظك كان يرميني بسهم هواك يرديني
وأعجب هل سيقتلني ويعبث بي فيحييني
ويهجرني فيقبرني ويلثمني فينسيني
يُنادِينِي لَكِ الأمَلُ
فأرتحِلُ
وأنظم من أغاني العشق أشعار المجانين
وبين الحِين والحِين
أَخَالُكِ مثلما كُنَّا
فكُوني لي .. ألا كُوني
فيا عَبَقَ البساتينِ..
ويا حُلُم المساكين..
ويا رَوْح الرياحين..
ويا حَاني
ويا حِيني
أسيُر مُغَاضباً واليَمُّ مَوَّارٌ يُغَالِبُنِي
فيقذفني بشَطِّ لِقاكِ منبوذاً
يُظَلِّلُني بيَقْطِينِ..
تَيَقَّظَ عِطْرُكِ الفَاغِمْ..
وذَابَتْ في حُشَاشِ النفس أطيافٌ من العالم
وجدْتُكِ في حَكَايا الزَّنْجِ حين الطَّبْلُ يَلْتَهِبُ
وحين تَوَتَّرُ العَصَبُ
وحين الناسُ فيكِ اثنان :
محتارٌ .. ومنتحبُ..

عمر أحمد فضل الله
Written by : Novelist
Subscribe To My Newsletter
BE NOTIFIED ABOUT BOOK SIGNING TOUR DATES
Donec fringilla nunc eu turpis dignissim, at euismod sapien tincidunt.